Custom Eco-Friendly Packaging
Custom Eco-Friendly Packaging
Eco Friendly Custom Packaging from Elevate Packaging.
Sustainable product packaging helps to round out an organic story for your brand, and demonstrates authenticity to discriminating eco-friendly customers. But finding the right high quality green packaging solution for your business can be difficult. We are here to help!
We're your one-stop solution for compostable packaging: from boxes, to pouches, to adhesive labels! All manufactured with certified compostable materials. Let us make any compostable packaging you need using these innovative compostable packaging materials: film, laminates, bags, pouches, cartons, boxes, labels, stickers and more.
INDUSTRIES SERVED:
Apparel/Fashion, Coffee, Tea, Food Service, Fast Casual Restaurants (To Go), Cannabis, Universities, Hospitals, Airports, Stadiums, Event Venues, Catering, Wine and Spirits, and more.
If you don't see your industry, call us, we are happy to create new and innovative solutions for your company!
Begin your journey to eco-friendly custom packaging, or ask us a question: Call +1.773.276.4554


OUR PROMISE: WE ALWAYS USE WORLD-LEADING ECO-FRIENDLY & SUSTAINABLE MATERIALS AND PROCESSES.
Elevate Packaging uses industry-leading 100% FSC-certified Recycled and Kraft papers from 100% Post-Consumer recycled paper content. Our eco-friendly water-based inks and vegan agri-based inks are effectively eliminating environmental, health and safety concerns.
All packaging may include internationally recognized certifications including FSC, SFI, Fair Trade, 100% Wind Energy, 100% Recycled, 100% Carbon Neutral, Compostable, and Tree-Free Alternative Fiber depending upon the packaging solution you choose.
Find out more about our sustainability processes here
We Offer a Wide Variety of Sustainable Packaging Solutions:
PACKAGING
•
BOXES: Folding Cartons, Rigid Boxes
• BAGS:
Flat Bags, Gusseted Bags, Stand-up Pouches with zippers, Coffee bags with one way off-gas valves, block bottom bags.
• CONTAINERS:
Bioplastic Containers (Compostable and Biodegradeable), Compostable Food Service
LABELS
•
Blank Labels on Sheets
•
Blank Labels on Rolls (1" and 3" core)
•
Custom Printed Labels
•

Master Rolls for Commercial Printers



CREATIVE DESIGN SERVICES

• Structural Packaging Design
• Brand Strategy
• Graphic Design
Begin your journey to eco-friendly custom packaging, or ask us a question: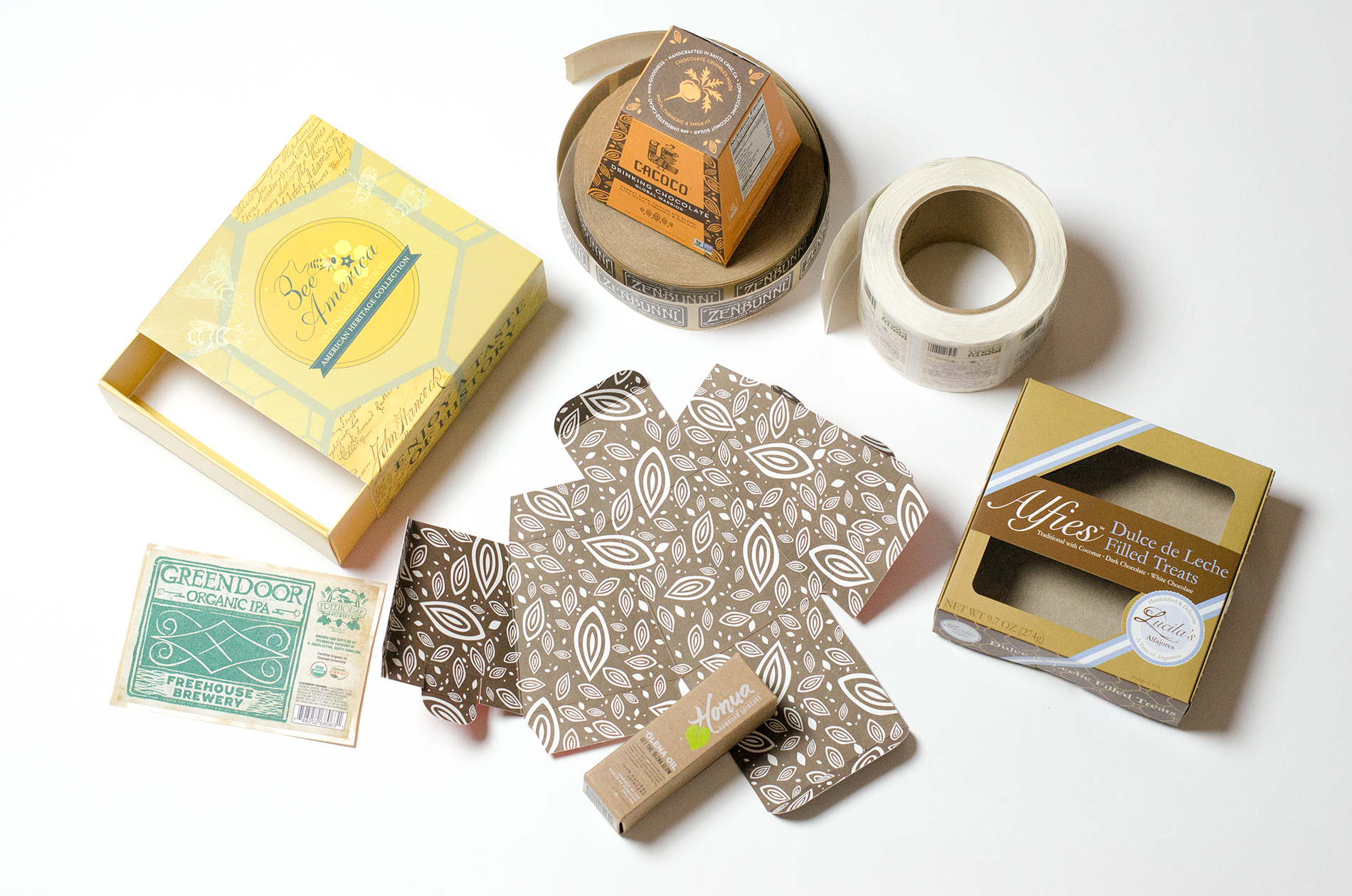 At Elevate Packaging we offer sustainable packaging solutions for a wide variety of needs. Contact us to find out more about our custom packaging design: including medical marijuana packaging, eco friendly cosmetic packaging, biodegradable packaging, compostable packaging, wholesale bakery packaging, green packaging, recycled packaging.